Complete package 6 nights, send us an email for a quote.
Tournament Dates Last week in June
pickup and delivery at the airport
6 nights at Hotel **** in Lloret de Mar
all breakfasts and dinners in large buffets
driving to all matches (no other provider drives teams from one game to the other)
handball court for extra training in Lloret de Mar. Walking distance
24 hour follow-up from SpainActive guides
We can arrange excursions to WaterWorld, paintball, Barcelona, ​​shopping.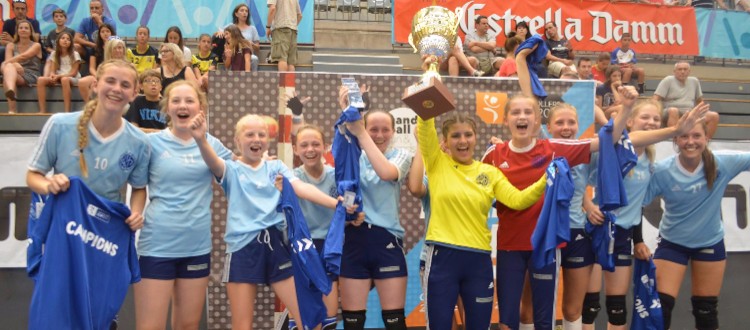 "What a performance :-) You deliver in every way. We are very pleased with SpainActive and the way we have been handled. Both before and during the cup. We had a wonderful week in Lloret De Mar, where the feedback from the group has been very positive. The way SpainActive organised everything and the support was excellent. Very nice SpainActive guides who were easy to talk to and had a glimpse of the eye. We did not meet any complications at all and everything was smooth. The cup itself was also impressive. We will definitely choose SpainActive next time, as it was a very positive experience to travel with you. " Espen Falla, Konnerud
"Thank you very much from Høybråten and Stovner J03! We had a wonderful week in Lloret Del Mar and Granollers. The activities, information and service from SpainActive was amazing! We highly recommend SpainActive as a Tour Operator!" Wiggo Thorsen, Høybraten and Stovner IL


"For us, it's obvious to recommend SpainActive. Well done. We all felt we were in the best hands. In addition, we also had time for some vacation."
Åkra IL, Janne Oldeide
"Yes, we will of course recommend SpainActive to other teams. The crew is professional and everything is tailor made. Could not have been better. Good communication in advance and during our stay " Lena S. Haugland - Mom / team leader in Spain - before handball Sauda
"Very well organized, brilliant management by SpainActive. Good guides. Good hotel and good food" Trude Martinsen Bruun Snarøya Coach / Coach
"Lommedalen J01 was delighted with the whole arrangement. SpainActive was on top of it. Great staff and awesome trip" Jon Lillehagen, Lommendalens IL
"We would definitely recommend other teams to travel with SpainActive. Well organised, helpful and, not least, very nice guides. The hotel was ideal for us. Great pool area, basketball court, soccer field, handball court. Good experience" Maria Prestmo coach Nordnes
"We have had a awesome stay with you again. Good hotel with great service and very good food." SpainActive took great care of us during the handball World Cup and training camp with Sandefjord."
Kristine Duvholt Havnås world champion, Roger Kjendalen former national team player, Sandefjord.
"It has been a VIP service from the first contact. SpainActive has been very helpful. We are particularly grateful and impressed with the follow-up of our player who was sent to hospital. Complete service all the way through." Roar Tolesör - Coach, player, referee, club leader, Sögne
"Organisation super good ... Pool and hotel are super good ... The food is super good ..." Lars Landgren, Håkan Field, Tony Hedin, Håkan Svensson - YSTAD boys 98 handball.. The winners of the tournament!!!
"The cup was a great choice for us as coaches. Bonus with buses that drove us from door to door and from battle to battle." Clear information and superb service from guides who helped us. Location and quality of hotel and food was top. " Christel Schaug Myhre, NJÅRD handball
"From we were picked up at the airport and until we were returned, SpainActive delivered a fantastic service. Their guides were always around us and helped us stay on track. SpainActive was a strong contributor to the fact that players, coaches and parents had a fantastic trip. Can really recommend using SpainActive for all teams going to Granollers Cup" Stian Krag, Trener Randaberg J-2000 Played and trained handball for about 25 years
SpainActive was very easy to collaborate with. Flexible and friendly. We have had a great stay here in Lloret de Mar. The boys had a great time" Marianne Gjestrud - team leader Vestre Bærum G2000

" This was on track from beginning to end "


Anne Aksnes, Rune Haugseng, Nærbø, previous top level player
"Well organized with professional guides who did everything everything to make sure we get a great handball experience. Certainly a strong recommendation to others" Gunn Merethe Møllerplass, Kristin Michele Williams Antonsen, Andreas Skartvedt Fragåt. Gjerpen handball

"PROFFESIONAL FROM A TO Z. GREAT SERVICE ORIENTED GUIDES"

Frode Engkro og Rolf Baisgård, BÆKELAGET/BSK girls, handball

"A very smooth set up. Congratulations. SpainActive made the trip an experience. Thank you!" Ole & Sissel Jørstad, Nessegutten

"SpainActive is fantastic at organising. Helpful. You offer us a concept that makes the trip an experience for players and leaders"

Per Kristian Wister, Marianne Lunde Lærdal Forus og Gausel girls 99 håndball

"For those going to Spain to do sports, we would definitely recommend SpainActive. Heia Johan! We hope SpainActive makes their own tournament one day."

Viking, Erik Andersen








The Package
You live in the Fenals area in the south of Lloret de Mar. The hotels we use are 4 **** and are all very centrally located, within walking distance to shopping, cafes and a "stones throw" from the beach. We have chosen to use Fenals because it is the closest beautiful spot with a good connection to Granollers. It is also the first beatiful location north of Barcelona. It's worth the extra 10 minutes by bus.
The package contains 6 nights. The idea is that you can have some vacation before the tournament begins. For those who wish we can make a package with extra nights. Young family member and parents often participate and are as important to us as those who play. A training is included in the package. We can also organise trips to Barcelona, shopping trip any of the shopping malls in Barcelona, paintball and Waterworld etc.
The tournament
The handball cup in Granollers has become a winner and is widely known. The pitches are located in the city of Granollers, located between Barcelona and Costa Brava. The tournament begins on the last thursday in June and lasts for 4 days. The cup was first organised in 1998. The handball club "BM Granollers", which is one of the 3 best Spanish clubs, organizes the tournament. The active athletes are between 10 and 20 years old and come from all over the world. There are more than 18 countries represented and approximately 380 teams every year. The tournament is conducted in the Catalan city of Granollers where the handball World Cup was held in 2013, and also the 1992 Olympic games. The games are 2 * 15 min and the groups are mostly 6 teams. You play 5 matches during the first three days. The elimination and finals rounds are on Sunday.
The registration fee was 540 Euro per team in 2018.
Transport
We pick up the group at the airport and deliver you after the end of your stay. The bus comes and collects the group every day to take you to Granollers. The same applies to any other activities the group wishes to implement. The buses are very modern and comfortable. The bus is the perfect time for managers etc to talk to the group. All buses have air-con, microphone, reclining seats, and seat belts for everyone.
HOTEL
The hotels are all 4 star and centrally located for shopping, eating, and visiting the beach. The hotels serve the food in big buffets with varied food and also have show cooking, where the chef prepares food fresh at the moment. All hotels have their own swimming pool and large outdoor areas. The hotels also have a bar-cafe where you can order drinks, coffee, and snacks.
Flights
You can let us do it or do it with your own local agent.
Barcelona is 60 min by bus to the hotel.
References
SpainActive is a sports travel company that was started by a Norwegian and a Swede in Barcelona in 2002. Our office is in the center of Barcelona. Our strength is that we have very good local knowledge, we are present all the time, and have employees who speak 4-7 languages (eg English, Spanish, Catalan, English, Norwegian, German,This comes in addition to several other services already added and described in this document.
Write an email with questions and we'll be happy call you back. We guarantee a very good trip.
We have very satisfied customers. After the Granollers Cup 2017, we got top scores from 32 out of 34 teams. The last two were not unhappy.
This email address is being protected from spambots. You need JavaScript enabled to view it.
Or give us a call
Norwegian Tel. +47 64008208
Spanish Mobile. +34 666234999